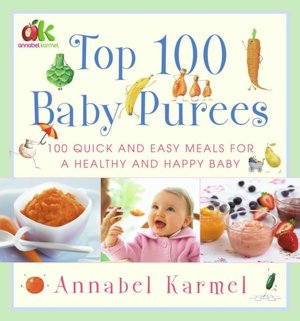 By Annabel Karmel

ISBN: 978-0-7432-8957-3

First of all I want to say that I love the preface of this book! It reminds everybody why parents decide to make their own baby food – It is healthier and it tastes better! I remember the first time I decided to make my own baby food, my baby was about 3 months old and we went to a friend's (their babies are four months older than Baby E) and they had me smell a jar of chicken puree; it smelled worse than dog food – there was no way I was ever going to feed that to my baby. Here is a book that helps me make my baby's food better.

This book is nice because it goes into detail for each recipe stating how to make it, what age it is best introduced, how many portions yielded, how long of cooking time, and if it is suitable for freezing. It also has more foods than just purees. I think this book complements The Healthy Baby Meal Planner by Annabel Karmel. It has some of the same names of recipes, but the recipes usually differ a bit.




This book covers first foods (about 6 months) with recipes such as butternut squash (one of my baby's favorites), apple and pear with cinnamon, no cook baby food – avocado, banana, and papaya; (2) after first tastes (6-7 months) with recipes such as see-in-the-dark puree, Cinderella's pumpkin, potato carrot and corn, chicken with sweet potatoes and apple, apricot apple pear and vanilla; (3) second stage weaning (7 to 9 months) which features recipes like tomato cauliflower and carrot with basil, mini minestrone, and cauliflower and broccoli in cheese sauce; (4) and lastly growing independent (9 to 12 months) with recipes such as mashed potato and carrot with broccoli and cheese, pasta with hidden vegetables, creamy chicken and vegetables, and nectarine and strawberry with vanilla.




Our family has enjoyed this book and I think it has helped us introduce more of a variety of foods for our baby. I am glad that he is learning to eat and enjoy foods that are healthy. Hopefully having such a variety will help him be less picky later in life!


On Amazon there are some bad reviews so I am going to address them here:

According to the AAP, "within a few months of starting solid foods, your baby's daily diet should include a variety of foods each day that may include the following: breast milk and/or formula, meats, cereal, vegetables, fruits, eggs, fish" (see

www.healthychildren.org Switching to Solid Foods

).

The AAP states that " Many pediatricians recommend against giving eggs and fish in the first year of life because of allergic reactions, but there is no evidence that introducing these nutrient-dense foods after 4 to 6 months of age determines whether your baby will be allergic to them" (

Switching to Solid Foods

). Unless your baby shows signs of allergies (such as eczema) or there is a family history of the particular allergy.

Some reviewers state that Annabel tells which foods to avoid in the beginning of the book and then uses these ingredients in the recipes. Let's clarify this. In the "foods to avoid" section of Annabel's book she states that fish and shellfish should not be given before 6 months; to not give honey before one year; to not give raw or undercooked eggs at all, do not give eggs before 6 months, do not add salt to food before one year, do not add sugar, do not give unpasteurized cheeses before twelve months, and do not give wheat-based foods that contain gluten before six months. No where in any recipe in Top 100 Baby Purees does Annabel contradict this advice.

Some reviews said they would not give their child butter before they are two years old. First Annabel is not drenching the food in butter and feeding it to her babies, she is simply using a little bit to add some flavor or to sauté things in. According to the AAP "as a general rule, your child should get about half of her daily calories from fat up to the age of 2 years." (see

www.healthychildren.org Low Fat Diets for Babies

).

Babies should be getting good unsaturated fats such as avocados, olive oil, salmon and fatty fish (see

www.babycenter.com Baby Food Revolution: Old rules for feeding your baby that still apply).

The AAP recommends that your baby does not receive

regular

cow's milk and that it should not replace breast milk/formula (see

www.healthychildren.org

Why Formula Instead of Cow's Milk?

). This does not mean that you cannot give your baby any cow's milk; it simply means that if there is no allergy, cow's milk should not replace nutritious foods in a baby's diet.

Some reviewers say they would not give their baby spices before one year. Using the AAP's food introduction steps, parents can offer their baby spiced versions of foods that have already been tried.

The best advice I can give is to do your own research and do not take anyone else's word. The AAP's guidelines could change tomorrow and it's a parent's job to keep up on the information and make wise and informed decisions.