By Jessica Harlan and Kelley Sparwasser
ISBN: 978-1-61243-020-1
Published by: Ulysses Press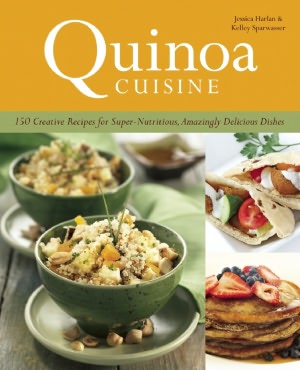 Before I got this book, all I knew about quinoa is that it is healthy. I didn't even know how to pronounce the word 'quinoa'. This book has now become a staple at our house. I love that there is a great introduction explaining what quinoa is (it is actually not a grain, but a member of the goosefoot family), the health benefits (it is one of the few plant foods that contain all eight essential amino acids), the various types of quinoa and quinoa products, the best places to purchase it, how to sprout it, and cooking tips.
I like that the recipes are very easy to follow and understand. Each recipe starts out with a brief paragraph either explaining what the recipe is, or where to find certain ingredients (or how to make them), sometimes explaining what some not well known ingredients are, and sometimes giving substitutions for ingredients that may be difficult to find. Although most of the ingredients used are things that I either already have on hand or use frequently or are readily available at our local grocer.
Each recipe has an icon that explains if it is quick and easy (defined as taking 30 minutes or less), if it freezes well, if it is gluten free, works well as a special occasion meal, if it is healthy (meaning low in fat or full of nutrients such as fiber, fruits, vegetables, or whole grains), if it is kid friendly, vegan, or vegetarian. This makes finding the perfect recipe really easy and it also makes it so when starting a new recipe you have a heads up what to expect.
The recipes are really good. Our family loves the quinoa pilaf because it can be made so many different ways, tri-berry smoothies, vegetarian empanadas, Thai summer rolls, green mango salad, two bean quinoa chili, stuffed artichokes with garlic lemon aioli, pea lemon and mint quinoa, rich chocolate zucchini bread, and many more.
The recipe chapters are broken down into the following categories: essential recipes, breakfasts, starters, salads, soups and stews, side dishes and pilafs, meat and fish, vegetarian, desserts, picnics packed lunches and other portable goodies, parties potlucks and presents.
In the appendix shows a few sample special occasion menus, and quinoa manufacturers and resources. I love that this book shows the manufacturers as this has helped me find places to purchase quinoa from.
The only thing that I feel could have been better in this book is pictures. The book contains no pictures other than on the front and back cover. This is not a big deal, but sometimes I do like to look at the pictures in recipe books.
My family is learning to love quinoa; it is tasty, healthy, and very versatile. I recommend Quinoa Cuisine for anyone trying to eat healthier; this book will help you learn to love this awesome food.
I received this book for
free for review purposes. However, this did not in any way influence my opinions.